This article was originally published by Tyler Durden at ZeroHedge under the title: Breakthrough On Debt Deal Would Raise Limit, Cap Spending For Two Years – But Will Freedom Caucus Accept?
With the X-date for potential US default now estimated at June 5, House GOP and White House negotiators appear to be settling on an agreement to raise the debt limit and cap federal spending for two years, Bloomberg reports, citing people familiar with the discussions.
That said, while the two sides have whittled down their differences over the past several days, the details are tentative, and a final agreement is not yet in sight. The two sides have yet to agree on the amount of the cap, however, under the emerging agreement, defense spending would be allowed to rise 3% next year, which is in line with President Biden's budget request.
"We're making progress and our goal is to make sure that we get a deal because default is unacceptable," said Deputy Treasury Secretary Wally Adeyemo, who warned CNN that payments to Social Security beneficiaries, veterans, and others would be delayed in the event of a default. "The president has committed to making sure that we have good-faith negotiations with the Republicans to reach a deal because the alternative is catastrophic for all Americans."
The emerging deal would also include a measure to upgrade the nation's electric grid to be able to handle the massive requirements of renewable energy, a key goal for Democrats while speeding up permits for pipelines and other fossil fuel projects demanded by Republicans.
The deal would also cut $10 billion from an $80 billion increase for the IRS that the Biden administration included in the Inflation Reduction Act, after Republicans warned of a 'wave' of audits led by new agents. Democrats say the increase will pay for itself via less tax cheating.
As we noted earlier, putting this "deal" in context, the plan passed by the House GOP would reduce fiscal year '24 spending by $130bn, or about 0.5% of GDP (setting aside the deficit saving from rescinding student debt forgiveness, which hasn't been implemented yet and which may be struck down by the high court). On the other end, according to reports which indicate the White House may cap FY24 discretionary nondefense spending at FY23 levels would reduce spending by about 0.1% of GDP relative to a plausible baseline. So, the federal spending reduction for FY24 could range from 0.1% to 0.5% of GDP. The final "compromise" outcome – which may be announced as soon as Friday- will be a 0.2% spending cut.
Today's daily update from Treasury showed that after a $25 billion benefits payment to Social Security, the Treasury's cash balance dropped by $27 billion to $49.5 billion, the lowest since 2021.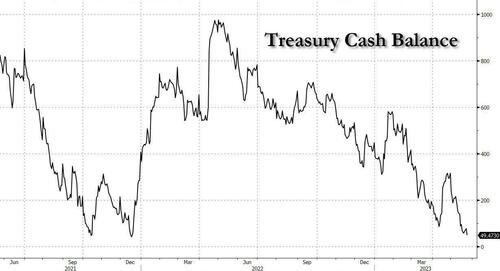 That means that net of roughly $80 billion in extraordinary measures (this number will have its weekly update Friday after the close), the Treasury now has approximately $140 billion in accessible cash. Which brings us to the good news: even net of the sizable cash drain on June 1 (just over $100 billion in scheduled payments) the Treasury is likely to retain a sufficient cash balance on Jun 1, the date which Janet Yellen has previously said was the X-Date, to extend operations for at least several days without a technical default.
Will the Freedom Caucus accept the deal?
Given that what's taking shape will be far less than Republicans' opening offer – which called for raising the debt ceiling through March in exchange for 10 years of spending caps, House conservatives appeared to already be balking at the current framework. On Thursday, the House Freedom Caucus sent a letter to Speaker Kevin McCarthy demanding that he stand his ground.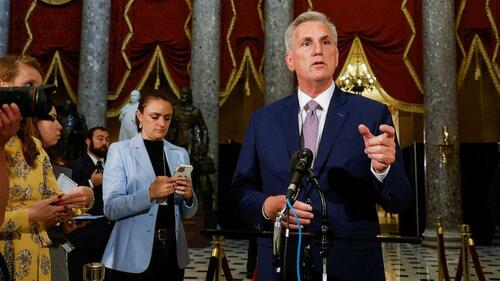 "We know where our differences lie," said McCarthy to reporters at the Capitol, adding that his team plans to work through the holiday weekend.
"We do not have an agreement yet. We knew this would not be easy. It's hard, but we're working. And we're gonna continue to work till we get this done," he said.
Jan Hatzius and Alec Phillips of Goldman Sachs Group Inc. said in a note to investors that odds were highest for an accord to be reached on Friday. "Negotiators appear to be closing in on an agreement."

Should a deal be reached soon, Tuesday is emerging as the likely day for a House vote. The Senate would then have to act quickly to send it to Biden's desk before June 1, the date by which Treasury Secretary Janet Yellen has said her department could run out of cash. 

The following day sees a payment due to millions of Social Security beneficiaries, putting pressure on politicians to resolve the impasse.
One of the negotiators, Rep. Garrett Graves (R-LA) described progress as "slow" on Thursday night, adding that the White House was holding firm against GOP demands to add work requirements to the eligibility for Medicaid and other social welfare programs.
"We have a lot of hangups," he said. "But that's one of the bigger issues."
When Republican negotiator Rep. Patrick McHenry of North Carolina was asked Thursday evening what he would tell investors about the progress of talks, he shot back "Glad the market's closed."
On Wednesday, Fitch Ratings placed the US's AAA credit rating on watch for a potential downgrade – which hasn't happened since 2011, when Congress was at a similar impasse. According to the White House and the Treasury, Fitch's move demonstrates the urgency of reaching a speedy solution to the stalemate, however, McCarthy said that negotiators don't need a ratings agency to convey the importance of getting this done.