Arc'teryx Mantis 32
CAPACITY: 32 Liters (1,963 Cubic Inches)
MSRP: $169
URL: www.arcteryx.com
We're fond of gear that looks commonplace in an urban setting but also excels in the backwoods or when SHTF. The Mantis 32 is one such pack. It works great as a commuter bag. It has a large main compartment, an internal sleeve to carry your laptop, two external sleeves for a travel mug or beanie, an admin section for your pens, keys, phone, multi-tool, and more. But it's also ideal as a hiking daypack. The laptop sleeve can hold a hydration bladder while its padded back, frame sheet, and aluminum stay provide a comfortable chassis for hauling gear on treks that are longer than your daily commute. It's a versatile pack with subdued good looks.
---
Gerber Compleat
COLOR: Burnt Bronze, Flat Sage, Onyx, Silver
MSRP: $29
URL: www.gerbergear.com
When camping, we'll save cargo weight and space by packing free utensils we've collected at various fast-food restaurants. But they're usually flimsy plastic, so we still need to pack tongs, ladles, spatulas … especially when planning to cook anything beyond hot dogs. That's why we're keen on the Compleat. It's a four-in-one utensil set that — while consisting of only a fork, spoon, spatula, and bottle-opener — can serve many more functions. It can be snapped together to form tongs, while the bottle-opener works as a veggie peeler, can opener, and package opener. It's made of high-temperature nylon with silicone overmold. The parts nest together to stow as a single, 7.75-inch-long piece that weighs no more than 2.3 ounces.
---
Nutrient Survival Creamy Chocolate Shake
WEIGHT: 2 pounds, 7 ounces
MSRP: $55
URL: www.nutrientsurvival.com
Why does postapocalyptic food have to be so boring and bland? Nutrient Survival certainly doesn't think it should be. That's why this Nevada-based company is producing food and beverages that aren't just long-lasting but also taste good and are good for you. Take for example its Creamy Chocolate Shake. It's packed with goodness: 14 vitamins, 14 minerals, 9 amino acids, Omega-3, Omega-6, and fiber. Plus, it doesn't contain soy, gluten, or artificial colors. To make a shake for yourself, just blend two scoops of it with milk or water. This 2-pound can contains 15 servings and has a 25-year shelf life.
Nutrient Survival is a fresh take on survival food, Read the Review Here.
---
Gear Aid Reflective Guyline Kit
WEIGHT: 2.44 ounces
MSRP: $13 / $12.95 on Amazon Here.
URL: www.gearaid.com
Whether you're on uneven terrain or the wind is starting to kick up, it's essential to be able to secure your tents and tarps. After all, when the weather's not your friend, the last thing you want to be doing is setting up your shelter … again. That's dangerous in frigid temps and demoralizing. This kit can help prevent that. Its 50-foot guyline is bright orange and comes with reflective accents so you won't trip over them, even in low-light conditions. The four Mini Line Tensioners help you adjust the cord to make sure your lines don't sag or loosen. Plus, the 2mm line can be used in other creative ways — as a clothesline, bear bag hanger, or a replacement bootlace.
---
Element Case

Black Ops X3

COMPATIBLE WITH: iPhone 12, iPhone 12 Pro, and iPhone 12 Pro MaX
MSRP: $250
URL: www.elementcase.com
No, that price tag isn't a typo. Yes, this phone case costs two and a half C-notes. But if you've just spent a grand on an iPhone 12 Pro, you can probably afford to invest in an overbuilt case. The Black Ops X3 has a sliding lens cover to protect your camera. Its four-layer armor features G10, polycarbonate, hard-anodized aluminum, and thermoplastic polyurethane to absorb impact and dissipate energy. It has convenient features like a kickstand for easy video viewing and a removable wallet that holds up to three credit cards — with the deep pocket clip also serving as a money clip. On top of all that, it has a built-in glass breaker for emergencies.
---
Halfbreed Blades

LBK-01

WEIGHT: 1 pound, 1 once
MSRP: $300
URL: www.halfbreedblades.com.au
One look at this bad boy and you just can't help but say the iconic line, "That's not a knife. That's a knife." Made in Australia from D2 tool steel and ergonomic Micarta handle scales, the LBK-01 is a beast. While D2 isn't our favorite blade steel and isn't quite stainless, it does offer outstanding strength, hardness, and wear resistance — attributes you need for a large bush knife. Plus, the LBK-01 does come out of the box razor sharp, and its modified drop-point blade is great for a variety of tasks, from slicing and thrusting to chopping and carving. It comes with an excellent Kydex sheath, which includes a fire steel and integrated holder. The LBK-01 would make Crocodile Dundee proud.
---
Knog

Bilby

COLORS: Black, Fluro Orange, Putty Grey, Violet Blue
MSRP: $60
URL: www.knog.com
The Knog Bilby is a fresh take on the headlamp genre. Its body and strap are medical-grade silicone that's comfortable, easy to clean, and adjustable using a simple toggle. Next is its USB-
integrated lighting pod that can be removed from the silicone body. There are no cables to untangle or break. Just detach the pod and plug it into a USB-A port to get a full charge in four hours. Lastly, with a max output of 400 lumens, the pod's five LEDs each serve a purpose: one for high beam, one for reading, two for mid and wide angles, and a red light for maintaining night vision. If you download Knog's mobile app, you can increase the modes from six to eight, further customizing it for your needs.
---
Superesse

Illumination Patch Kit

DIMENSIONS: 3 by 2 inches
MSRP: $26
URL: www.superessestraps.com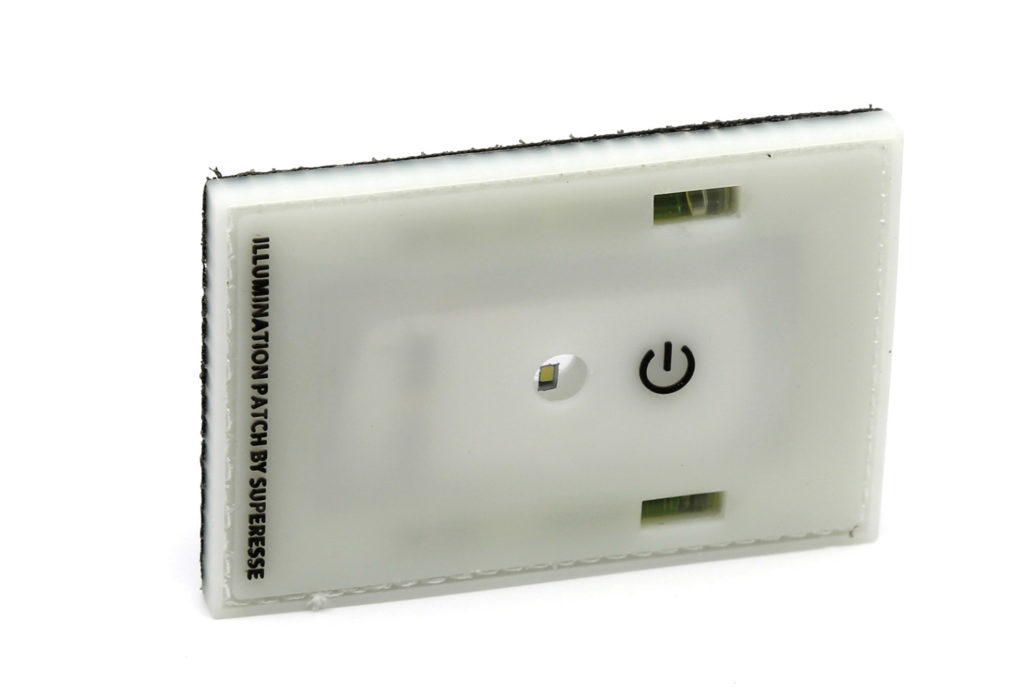 This innovative kit's centerpiece is the morale patch, which glows in the dark and has a Velcro backing for easy attachment to your hat or pack's loop panel. Next is the Brite-Strike APALS, which inserts into the patch and produces a 25-lumen white light that can be seen up to a mile away. It has three modes: constant-on (35 hours max), fast strobe (100 hours max), and slow strobe (200 hours max). The weatherproof and shockproof APALS' LED shines through a window in the patch and can be activated with a "power button" graphic on the patch. Rounding out the kit are two micro chem sticks, which have a two-year shelf life and can be used for low-light tasks, signaling, or marking a trail.
---
Good To-Go Chicken Pho and Cuban Rice Bowl
WEIGHT: 3.4 ounces per package
MSRP: $8 each
URL: www.goodto-go.com
In a world of constipation-inducing MREs, Good To-Go is one of the few companies producing quality backpacking foods that have long shelf lives and are easy to make in the field. So, we were jazzed to try its latest meals: Chicken Pho and Cuban Rice Bowl. Do they taste like the real deals? Nope. But, hey, the good news is that they're better than eating cardboard-like ration bars or hardtack. The best part is they last for two years unopened, and they're convenient to cook — you just need boiling water and about 10 minutes. Each serving comes packed with a good number of calories, carbs, and protein — all of which you'll need in a survival situation.
---
Hults Bruk Agdor 28
WEIGHT: 3.8 pounds
MSRP: $108
URL: www.hultsbruk1697.se
Like many Scandinavian companies that make edged tools, Hults Bruk produces axes that meld Nordic traditions with modern sensibilities. The Agdor 28 features a handle that's, well, 28 inches long and made of American hickory. Though it doesn't have the smoothest finish, the classic handle provides good balance and ergonomics for two-handed swings. Up top, the 2.5-pound hand-forged head is hard, durable, and (most importantly) sharp. At 4 pounds with an old-school leather sheath, the Agdor is not a bug-out tool by any means. But if you've got room, you won't regret packing it in your RV, off-road rig, or garage because it makes for an affordable camp ax or backyard tool.
---
Rite in the Rain Land Nav Kit
DIMENSIONS: 8.375 by 6.5 by 1 inches
MSRP: $100
URL: www.riteintherain.com
Teaming up with Battle Board, Rite in the Rain recently released the Land Nav Kit. It comes with a Tactical Field Book that has 160 weatherproof pages, which includes reference materials like rulers, charts, and map scales. Next up is the All-Weather Metal Pen, which has a pressurized black-ink cartridge that can write underwater, upside down, and in extreme temperatures (from -30 degrees F to 250 degrees F). Both paper and pen come in a zippered book cover, which is made from Cordura fabric and has a polycarbonate display on the front cover so you can insert maps and write on them with grease pencils or map markers. It also has internal storage, including a large pocket and four slots for writing instruments.
---
First Lite Fuse Zip Off Boot Top
COLORS: Various, including Ash Grey, Black, and Dry Earth
MSRP: $95
URL: www.firstlite.com
Wool is Mother Nature's super fabric. In the summer, it is quick drying and moisture wicking. In the winter, it provides superior insulation, even when wet. And regardless of the climate, wool is breathable and odor-resistant. So, it makes perfect sense to make a pair of long johns out of sheep's clothing. But when a chilly morning gives way to milder afternoons — especially a long hike through the backcountry — sometimes you'll want to shed some layers. The Fuse Zip Off Boot Top lets you take off your base layer without having to take off your boots and hop out of your pants. Thanks to integrated zippers, you can remove these long johns easily in the field while keeping your boots on.
The post Gear Up: New Survival Gear for January 2021 appeared first on RECOIL OFFGRID.