Mac Slavo
March 14th, 2022
SHTFplan.com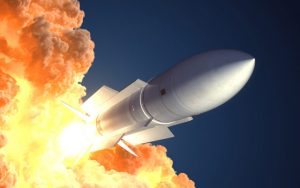 The rulers of the United States have vowed to hold the rulers of Iran "accountable" for a missile strike that hit a U.S. consulate in Iraq. White House National Security Advisor Jake Sullivan said the US "condemns in the strongest terms" Iran's attack on "a civilian residence in Erbil," which he claimed took place without "any justification."
No injuries were reported in Sunday's attack on the city of Irbil, which marked a significant escalation between the U.S. and Iran when geopolitical tensions are already at all-time highs since the beginning of World War II.  Hostility between the longtime foes has often played out in Iraq, whose government is allied with both countries, according to a report by The Associated Press. 
"The United States stands with Prime Minister Kadhimi and the leaders of the Kurdistan Region, President Nechirvan Barzani, and Prime Minister Masrour Barzani, in condemning this assault on the sovereignty of Iraq and its Kurdistan region," Sullivan continued, before pledging to "support the Government of Iraq in holding Iran accountable."
Iran's Islamic Revolutionary Guard Corps (IRGC) claimed responsibility for the attack and said it had targeted "the Zionists' strategic center of plotting and evil." Iran's state-owned IRNA news agency said the incident was retaliation for "recent crimes by the fake Zionist regime" – seemingly in reference to a recent Israeli airstrike near Syria's capital, Damascus, which reportedly killed two IRGC officers and two civilians.
Iran's powerful Revolutionary Guard said on its website that it attacked what it described as an Israeli spy center in Irbil. It did not elaborate, but in a statement said Israel had been on the offensive, citing the recent strike that killed two members of the Revolutionary Guard. The semi-official Tasnim news agency quoted an unnamed source as saying Iran fired 10 Fateh missiles, including several Fateh-110 missiles, which have a range of about 300 kilometers (186 miles). –AP News
War rhetoric is ramping up everywhere. Hope for the best, prepare for the worst.
EMP? Cyber Attack? Nuclear War? What Should We Be Prepping For?
INFLATION IS RUNNING AT 40-YEAR HIGHS!
NEGATIVE INTEREST RATES ARE TAXING SAVERS,
CREATING FOOD SHORTAGES
AND MAKING LIFE MISERABLE IN THE UNITED STATES!
There's Little Time Left Before the REAL DISASTER occurs!
Download the Ultimate Reset Guide Now!