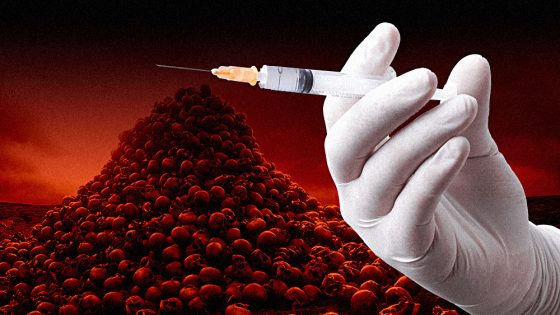 Because apparently, two shots of the experimental gene therapy "vaccines" aren't enough to give people immunity, the rulers, in partnership with Big Pharma, are now discussing boosters and third doses.
Pfizer and BioNTech said on Thursday they are testing a third dose of their Covid-19 vaccine to better understand the immune response against new variants of the virus. There are also discussions between Big Pharma and the rulers about testing a vaccine modified to protect specifically against the highly transmissible new variant found in South Africa and elsewhere, known as B.1.351, according to a report by CNBC. 
COVID-19 mRNA Shots Are Legally Not Vaccines
"The rate of mutations in the current virus is higher than expected," Pfizer Chief Scientific Officer Mikael Dolsten said in an interview.

"It's a reasonable probability that we would end up with regular boosts. And for potent vaccines, it may be that you need to do a strain change every few years, but not necessarily every year." –CNBC
Dolsten believes that the third dose of their vaccine will create a similar or better response than the second dose, and could be the logical next step for staying ahead of circulating variants.
The Truth Comes Out: It DOES Alter Your Genetic Material
"We think our vaccine is robustly active against all strains," Dolsten said, noting that the companies "want to be prepared for all options and be data-driven — led by science."
Moderna also said on Wednesday it is also working with U.S. government scientists (the masters and rulers) to study an experimental booster shot that targets the variant first found in South Africa.
Unless people start to stand up and say enough is enough, they will roll out as many of these boosters and third doses as they can. They don't care about your health, it's about control and money. They want us all vaccinated, tracked, traced, and controlled to the highest extent. Is it not obvious by now?
Prepare, stay alert and use discernment. This is a large piece of the overall agenda. Just how large and exactly where this piece fits in the totalitarian enslavement of mankind is still in question. They are continuing to push these vaccines as the official narrative surrounding this scamdemic falls apart.  That says a lot.
The post The Ruling Class And Big Pharma Team Up To Push A Third COVID Shot first appeared on SHTF Plan – When It Hits The Fan, Don't Say We Didn't Warn You.