Mac Slavo
May 13th, 2022
SHTFplan.com
Comments (18)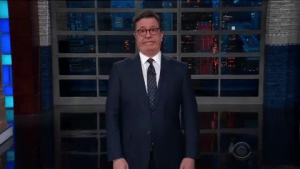 Talk show host, the fully vaccinated and boosted Stephen Colbert has been infected with COVID for the second time in the space of three weeks after previously thanking the efficacy of the vaccine when he contracted the virus last month.  The Late Show frontman previously caught COVID on April 21 and was forced to cancel that night's taping before taking a week off.
COVID-19 mRNA Shots Are Legally Not Vaccines
The show returned on May 2 with new episodes, although production has been paused again following news of Colbert suffering a "recurrence" of COVID-19. So much for the "vaccines" being "effective."
This news follows fully vaccinated and boosted tyrant Bill Gates' announcement that he also has COVID.
Fully Vaccinated Bill Gates Tests Positive For COVID
Fellow talk show hosts James Corden, Seth Meyers, and Jimmy Kimmel also all recently tested positive for COVID. Last month, Kamala Harris also caught COVID despite being quadruple vaxxed against the virus.
Fully Vaccinated & Boosted Celebrities And Journalists Are Coming Down With COVID After WHCD
Fully Vaccinated & Boosted Hillary Clinton Tests Positive For COVID-19
Colin Powell Dies Of COIVD-19 Even Though He Was FULLY VACCINATED
It doesn't appear that "breakthrough" infections are rare. Most celebrities and political parasites have been trying to convince the masses that injecting themselves with an mRNA gene therapy shot several times is a great way to prevent a cold. It looks like we've been conned. But some of us knew from the beginning this was about the "vaccine" and nothing else.
Ruling Class: The Scamdemic Won't End Until The WHOLE WORLD Is Vaccinated
It is surprising that anyone is still falling for all of the vaccine lies and propaganda.
U.S. Ruling Class Data: Fully "Vaccinated" Are Developing AIDS
All of the data and evidence is not playing in favor of these shots, but the sad fact that over 60% of Americans have already gotten them is a testament to just how gullible a majority of the population has become. The master says "inject." The slave says "ok." What a sad slave planet we live on right now.
INFLATION IS RUNNING AT 40-YEAR HIGHS!
NEGATIVE INTEREST RATES ARE TAXING SAVERS,
CREATING FOOD SHORTAGES
AND MAKING LIFE MISERABLE IN THE UNITED STATES!
There's Little Time Left Before the REAL DISASTER occurs!
Download the Ultimate Reset Guide Now!