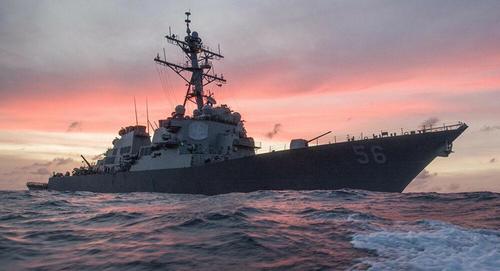 Russia has warned the United States on Tuesday against sending warships to the Black Sea, as ships are headed there now. The US should stay away for their "own good," said Moscow,  as the situation along Ukraine's border has caused increasing concern in the West.
According to a report by CBS News, the U.S. Secretary of State, while meeting with Ukrainian and NATO officials in Brussels, made it clear that the Biden administration, along with its allies in Europe, has Ukraine's back and considers Russia's ongoing military buildup in the region "very provocative." On the other hand, Russian Deputy Foreign Ministry Sergei Ryabkov was cited by Russian news agencies as saying the US is helping ramp up the aggression and inch the world toward war.
"There is absolutely nothing for American ships to be doing near our shores," Ryabkov said, warning there was a very high risk of unspecified incidents if U.S. military hardware were to be positioned in the Black Sea. "We warn the United States that it will be better for them to stay far away from Crimea and our Black Sea coast," Ryabkov was quoted as saying. "It will be for their own good."
The Turkish Foreign Ministry said on Friday that Washington had informed Ankara that two U.S. warships would pass through Turkish waters this week to be deployed in the Black Sea. The deployment would come amid a significant escalation of the conflict in eastern Ukraine between Russian-backed separatists and Ukraine's forces, which have U.S. and European support.

Hostilities first flared in 2014 when Russia unilaterally annexed Crimea — a peninsula that sticks out into the Black Sea and is home to a Russian navy base — away from Ukraine, drawing condemnation from the Western world and a series of sanctions. –CBS News
Pentagon spokesman John Kirby declined during a regular press briefing on Friday to confirm the Turkish government's statement that U.S. warships were being sent to the Black Sea. He noted that the U.S. "routinely" operates in the Black Sea, but said he wouldn't "speak to operations."
The march toward war is ongoing as rhetoric ramps up and more warships and military are sent to the area. Be ready for anything.  Hopefully this is nothing more than the rhetoric of a few ruling classes, but we know they aren't the ones that will be going into battle if this explodes.
The post Russia Warns US To Stay AWAY From The Black Sea For Its "Own Good" first appeared on SHTF Plan – When It Hits The Fan, Don't Say We Didn't Warn You.