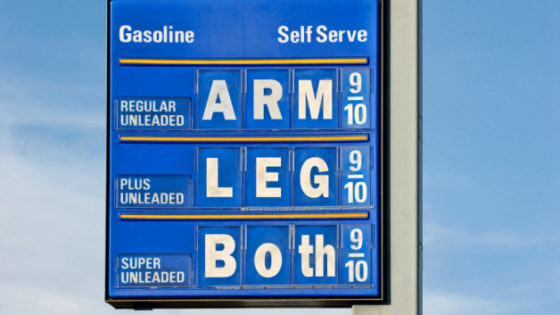 This is getting more and more difficult to believe by the day. The ruling class has come out and said there is no gasoline or diesel shortage in the aftermath of the shutdown of the Colonial Pipeline.  They also said the shortage they claim doesn't exist is the fault of "hoarders."
Because of things like this, we constantly urge everyone who reads this site to use critical thinking and discernment.  The Biden administration denied there was a "shortage" and blamed "hoarders" for the "supply crunch." Apparently, "shortage" and "supply crunch" do not mean the same thing to Sleepy Joe's people and the other tyrants running around.
Virginia and Florida declared a state of emergency on Tuesday, following North Carolina's declaration the day before, as the disruption in pipeline operations led to over 1,000 gas stations across a dozen states running out of fuel, according to S&P's Oil Price Information Service, according to a report by RT.
GASOLINE OUTAGES as of 8pm CT… percent of all stations in state without gasoline:
GA 8.0%
AL 0.8%
TN 0.5%
SC 5.9%
NC 12.3%
FL 3.0%
VA 8.6%

— Patrick De Haan (@GasBuddyGuy) May 12, 2021
Every day Americans are sharing images of gas stations out of fuel online. But the mainstream media is acting like the rulers claiming there is not a shortage of fuel.  The New York Times claimed that since the pipeline's shutdown due to a ransomware attack, "there have been no long lines or major price hikes for gas."
This was the Ingles at 6am. The line was starting to form at the bottom of their hill. Got longer and heard people beeping their horns just shortly after this.

Don't tell us there aren't lines. This went on alllllllll day. pic.twitter.com/FQe7Gj8dFS

— ⚘Laurie #BLM (@BiltmoreGhost) May 12, 2021
So they are obviously lying to us and telling us to ignore what our own eyes are showing. We live in the strangest of times, folks, and it could get even more interesting as the rulers continue to open their mouths and attempt to continue to brainwash the public into servitude.
Ruling class puppet known as the Energy Secretary Jennifer Granholm insisted the East Coast was not facing a "gasoline shortage" but rather a "supply crunch."  The ruling classes' talking head went on to say: "We know that we have gasoline; we just have to get it to the right places," Granholm told reporters at the White House on Tuesday. She said there was "no cause for hoarding gasoline" and compared it to "hoarding toilet paper at the beginning of the pandemic."
This is the very reason we ask that all people use discernment and critical thinking. It's time to start figuring out what these psychopaths are doing and the reasons these agenda items just happen to tick off all the boxes of enslavement.
The post Ruling Class Says There's No "Shortage" Of Fuel, Then Blames The Shortage On "Hoarders" first appeared on SHTF Plan – When It Hits The Fan, Don't Say We Didn't Warn You.