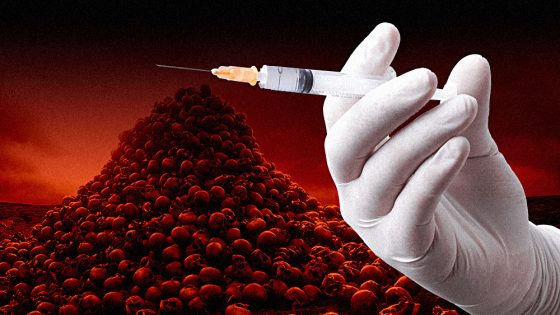 The push to get everyone injected with the experimental gene therapy is ramping up.  They are now using the "variant" coming from India as a scare tactic to get more people to roll up their sleeves and take the shot.
Dr. Anthony Fauci, the United States head medical tyrant is dictating that the shots, which don't even protect people from COVID the original (they lessen symptoms), are effective against India's more "transmissible" variant. They are doing everything in their propaganda brainwashing handbook to convince people to get this shot.
The New York Post reported that the ruling class is claiming a "concerning strain" of the coronavirus first detected in India will likely be thwarted by the Moderna and Pfizer-BioNTech vaccines in the US, health officials said Tuesday. The more contagious India variant, B.1.617.2 was called a "variant of concern" in the United Kingdom and it's now made its way into the US.
But Dr. Anthony Fauci said early data suggests that the two-dose vaccines already in use are "at least partially and probably" protective against the India variant and other strains. –The New York Post
Citing "multiple studies" for which links were not provided (is anyone shocked?) in recent days showed the vaccines maintained antibodies against a wide range of variants for as long as six months, Fauci said at a Tuesday White House COVID-19 briefing. So why are they using the India variant now in the mainstream media? It's simple:
"So in summary, this is just another example of the scientific data accruing…indicating another very strong reason why we should be getting vaccinated," Fauci said during the briefing, held virtually. –The New York Post
Moderna recently announced the results of a clinical trial that showed getting a third shot of its vaccine boosted its effectiveness against variants first identified in Brazil and South Africa. Except, they keep calling these shots vaccines, and they are not based on simple legal medical definitions.
COVID-19 mRNA Shots Are Legally Not Vaccines
Is COVID-21 right around the corner? It sure makes one wonder…
More COIVD-19 Vax Deaths: Think They'll Blame This On COVID-21?
Stay alert and aware.  As always, use your critical thinking and discernment. Ask questions, and remain prepared.  This "India variant" could turn into something, and it's anyone's guess how far they will be willing to take it.
The post Fauci: The "Vaccines" Work Against India Variant first appeared on SHTF Plan – When It Hits The Fan, Don't Say We Didn't Warn You.