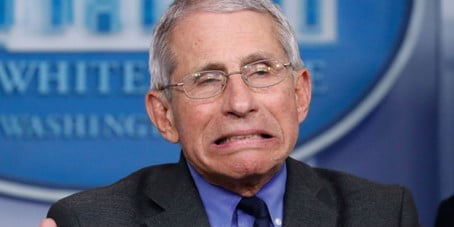 Head medical tyrant Dr. Anthony Fauci continues to push the experimental gene therapy shots every chance he gets. Now he says we all need to take the shot before the "Delta" variant becomes the most dominant variant in the United States.
Or what? We lock down again because these shots aren't effective, even by Faucis' multiple admissions?
Yankees Suffer COVID Resurgence As 8 Fully-Vaccinated Players, Staff Test Positive
Tyrants: "Prepare To Wear Masks & Socially Distance Even After Getting COVID-19 Vaccine"
"In the U.K., the Delta variant is rapidly emerging as the dominant variant … It is replacing the B.1.1.7," Fauci said. "We cannot let that happen in the United States."
The variant has become the dominant strain in the U.K., accounting for an estimated 60% of new cases. It's now more prevalent than the Alpha strain, formerly called the B.1.1.7 strain, which was first identified in the U.K., and transmission is peaking in people between the ages of 12 and 20, White House chief medical advisor Dr. Anthony Fauci said at a press briefing Tuesday

In the U.S., the Delta variant accounts for more than 6% of cases scientists have been able to sequence, he said. The actual number is likely higher, as the U.S. is running the genetic sequence on a fraction of cases. -CNBC
Joe Biden has demanded that at least one vaccine shot to 70% of all U.S. adults by the Fourth of July. Even mainstream media admits this is an unlikely mark to hit. With less than four weeks left before the 4th, and only  63.7% of the adult population having received their first shot, according to data compiled by the Centers for Disease Control and Prevention, the number of those willing to be guinea pigs is diminishing rapidly.  Roughly 53% of all U.S. adults are fully vaccinated, according to the CDC.
If there are not enough people willing to take this jab, would the rulers go for another lockdown and blame it on the "unvaccinated?" Maybe. If they can panic the public enough with the "Delta variant," will enough people take the shot? Also, maybe. If this shot was so great, would we really need a 24/7 propaganda campaign to tell us that it is?
Just a couple of questions that seem to go unanswered.
Stay alert and prepared.  They are still attempting to use fear as a weapon to manipulate behavior. Apply critical thinking and discernment to everything.
The post Fauci Keeps On Warning: Take The Jab Before "Delta" Varinat Becomes Dominante first appeared on SHTF Plan – When It Hits The Fan, Don't Say We Didn't Warn You.