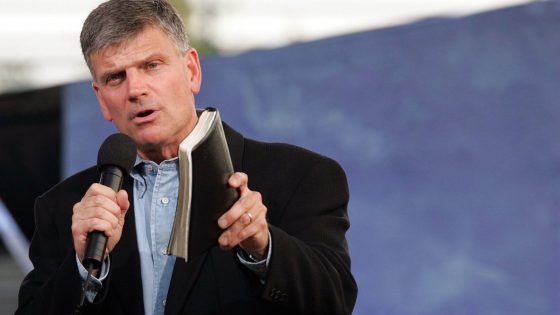 Evangelical Pastor Franklin Graham is urging his followers that remain "vaccine-hesitant" to roll up their sleeves and take the experimental gene therapy jab. Graham is attempting to convince fellow evangelicals to get the shot saying: "Thank God for vaccines."
Graham has suggested that modern medicine is an extension of Jesus Christ's healing ministry.  Graham, who is president of the Billy Graham Evangelistic Association and aid organization Samaritan's Purse, spoke to CNN's Wolf Blitzer on Monday and urged those skeptical about the vaccine to just turn off their minds, stop thinking, and accept it. No wonder CNN willingly gave him air time.
Vaccine hesitancy (although at this point, it should be called vaccine refusal) is not confined to the evangelical community. A recent Pew Research poll showed that 45 percent of white evangelicals said they would not get the vaccine.
"So what's your message to fellow evangelicals who are still very hesitant to get this potentially life-saving vaccine?" Blitzer asked.

"First of all Wolf, I think a lot of this is changing – these attitudes," Graham said.

"When Jesus started his ministry, he went about preaching and he used his power as the Son of God to bring healing to people's bodies.

"And he didn't do it so they'd have a better life. He did it so they'd put their faith and trust in him as the Son of God. And as a Christian, I think it's important that we model our ministry after that of Jesus Christ. We want to try to bring healing to people's bodies, and we can do that through modern medicine." –Newsweek
Healing? Is that what this "vaccine" is bringing to people's bodies?
"Vaccine" Side Effect: COVID Arm
Another Possible Side Effect Of COVID Vaccines: Herpes
COVID Czar Admits The Vaccine Has "Significant Side Effects"
More COIVD-19 Vax Deaths: Think They'll Blame This On COVID-21?
Graham said he would be happy to work with the Biden administration in order to encourage people to take the "vaccine". He has been a strong supporter of former President Donald Trump but said he hadn't spoken to Trump about whether he would also publicly encourage taking the vaccine. "I would encourage the president … There's no downside for him to do this," Graham said. "I think it'd be a very easy thing and I might try to get a hold of him even tonight and say something to him."
The propaganda is intensifying, folks.  We all knew this was going to happen. Stay prepared.  What's next could be anyone's guess.  This "vaccine" is obviously a part of the overall agenda, and to what extent remains to be seen. Keep using your critical thinking and discernment.
Medical Journal: Get The COVID-19 Vaccine, Or Be Punished HARSHLY
The post Evangelical Pastor Franklin Graham Says To Get The Jab: "Thank God For Vaccines" first appeared on SHTF Plan – When It Hits The Fan, Don't Say We Didn't Warn You.