This article was originally published by Matt Agorist at The Free Thought Project. 
EDITOR'S NOTE: This is incredibly disturbing. When some humans act as though they have the right to destroy others, we live in a horrific dystopian police state. If you are stuck in the left vs. right paradigm lie still, this article and the videos of police officers brutally abusing an elderly woman because they have a badge and believe they can, will probably offend you. No human has the right to treat another this way badge or not. Wake up. They don't have more rights than we do and it's time to recognize that fact. 
Special thanks to Matt Agorist and Brian from High Impact TV for showing us just how vile people become when they are given power and qualified immunity.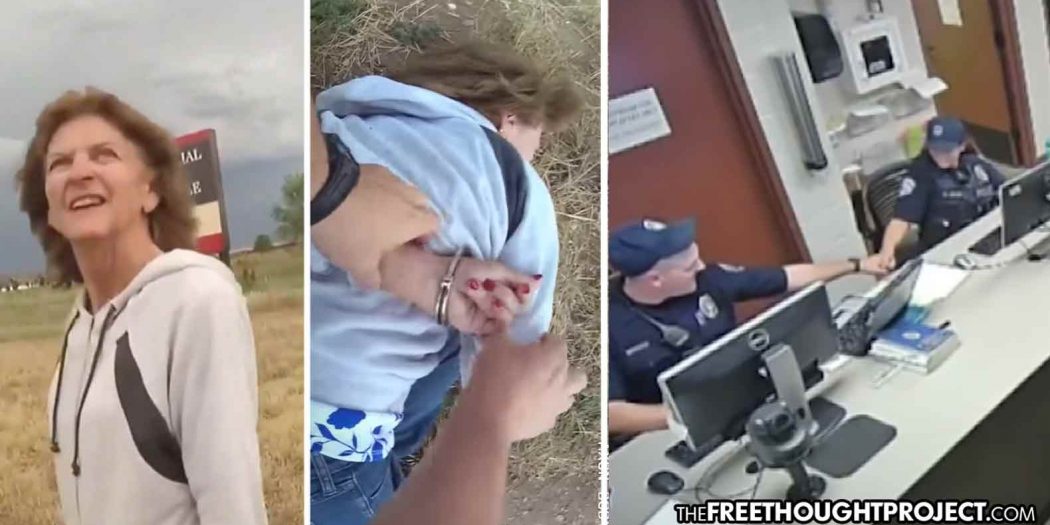 On June 26, 2020, Karen Garner, 73, walked from her home to the local Walmart two blocks away to get some supplies. Everything that happened after this trip to Walmart is now the subject of an excessive force lawsuit against the Loveland Police Department because they have no idea how to treat elderly women with dementia. For nearly a year, the cops who savagely attacked the elderly woman thought they got away with it. However, thanks to a lawsuit and the release of body camera and surveillance footage, that is all changing.
On Tuesday, the Loveland [Colorado] city manager announced that Officer Austin Hopp, Officer Daria Jalali, Sgt. Phil Metzler and Community service officer Tyler Blackett have all been suspended and placed on administrative leave.
As TFTP reported earlier this month, body camera video showed the officers attack Garner. However, after the media began picking up on her story, another video was released showing that officers knew about the injuries they caused, neglected to provide aid, and laughed and celebrated their brutality against an elderly woman with dementia.
As 9News reports, the officers' initial report said Garner, who has dementia, was not injured. Her lawyer, Sarah Schielke, said the officers dislocated Garner's shoulder, broke a bone in her arm, and sprained her wrist.
Schielke alleges the video shows the three arresting officers watching body camera video of Garner's arrest, laughing and celebrating the excessive force, and fist-bumping the fact that one of the officers intimidated a citizen who stopped to make a complaint.
Only because the video was released and drew the appropriate criticism did the department react. Now, they have no other option and have since launched a criminal investigation.
"It's a really important thing for everyone to know that this is now a criminal investigation," Tom Hacker, a spokesperson for LPD, said. "It's one that LPD asked for and the DA is taking it on Fort Collins Police, both working on this [investigation] and we hope that this investigation goes as expeditiously as possible and that we learn of the outcome very soon."
What should have been a situation in which an officer offers an elderly woman a ride home turned into senior citizen abuse at the hands of Loveland's finest.
As we reported, like those with dementia often do, Garner simply grabbed her items in Walmart that day and walked out. She was quickly confronted by store security who then guided her back into the store for accidentally failing to pay for $13.88 worth of items.
After being escorted back into the building, Garner realized her mistake and tried to pay for the items but the store called the police anyway. By the time police arrived, Garner had left the store and was walking home. She had left the items back at the store and no crime had been committed.
When police arrived, the interaction was captured on body camera footage.
Officer Austin Hopp said, "Alright let's stop ma'am. I don't think you want to play it this way. Ma'am, police. Stop," as he exited his patrol car.
Clearly illustrating her dementia, when Garner tries to respond to the officer, she simply mumbles.
But officer Hopp couldn't have cared less that this was an elderly woman suffering from dementia, who by this time, had committed no crime. He just knew he had to escalate force.
After just two minutes, this "hero" cop tackles the frail elderly woman with dementia to the ground and puts her in handcuffs.
According to the lawsuit, when a second cop, officer Daria Jalali arrived, she "put her own hands on Ms. Garner to hold her while Officer Hopp continued pushing painfully upward on Ms. Garner's already-restrained left arm and while also violently touching her all over her body."
Illustrating how confused and scared Garner was, the entire time, she kept telling the officers, "I'm going home."
"It makes you very worried about vulnerable people in the community with a police force like that," civil rights attorney Sarah Schielke, of The Life & Liberty Law Office, who is representing Garner said. "The behavior is indefensible they knew they were being recorded and yet they did it anyway, we have to ask, 'why?'"
In the video, we can hear the cops talking about Garner bleeding and then plotting all the charges against her. Every single one of the contrived charges had to do with cops escalating force against an innocent woman with dementia.
The cops were so rough with Garner they left her bloody and with broken bones. Despite her clearly visible injuries, according to the lawsuit, police brought her to jail and then denied her care. Instead of tending to her injuries, police left her chained to a cell for hours.
"The officers handcuffed her to a cell at the station for over 2 hours, keeping her isolated and terrified, in extreme pain, and then deposited her at the Larimer County jail where they lied and said she was uninjured, which ensured she continued to not receive medical treatment for another 3 hours," the law office wrote in a press release.
We now have a video of officers fist-bumping and laughing at the abuse they doled out to a senior citizen with dementia. And these are the folks the thin blue line crowd wants us to blindly worship. Never.

Time to wake up. These people are imposing the will of the ruling class masters on us and we need to start to use our own critical thinking to see through the brainwashing and blind worship of the state and its enforcers and do the moral thing.

The post Cops Attack, Severely Injure Innocent Elderly Woman—Laugh, Fist Bump to Celebrate Her Pain first appeared on SHTF Plan – When It Hits The Fan, Don't Say We Didn't Warn You.