Meridian, Idaho – July 27, 2022 – Horus Vision, an industry leader in advanced reticles and quality optics, has added to its popular HoVR™ line with the new HoVR™ 6.5-40x50mm Spotting Scope featuring the TREMOR4™ Advanced Spotting Scope Reticle.

Offering exceptional color and brightness, the Horus HoVR™ 6.5-40x50mm Spotting Scope is the perfect companion to the Horus Complete Shooter Package or any milliradian based riflescope. The Spotting Scope is lightweight, compact, and rugged and is currently offered with the Horus TREMOR4™ Advanced Spotting Scope Reticle.

The enhanced optical design and broadband multi-coated glass provide exceptional clarity for observation and viewing of bullet trace. With extraordinary optical quality, the Horus Spotting Scope provides an improved viewing experience even at extended distances.

The TREMOR4™ advanced spotting scope reticle is designed for use with the TREMOR2™, TREMOR3™, and TREMOR5™ rifle scope reticles and is also an exceptional reticle for spotting with any other milliradian based riflescope. The TREMOR4™ features the Horus Grid for fast shot calls, and the patented Time of Flight Wind Dots, to aid spotters in calling wind and the Horus Milling Chevrons for ranging targets of known size.
Other specifications include:
● Compact Size (10.7" OAL)● Lightweight (40 oz.)● TREMOR4™ Advanced Spotting Scope Reticle● Top Mount Accessory Rail Mounting Holes● Ruggedized Rubber Overmold● Nitrogen Purged● IP67 rated for dust proofing and 1 meter waterproof for 30 minutes● Integrated ¼-20 Tripod Mount● 50mm Objective● Nylon Carry Case and cleaning cloth included● Lifetime Warranty
For further details and information, visit Horus online here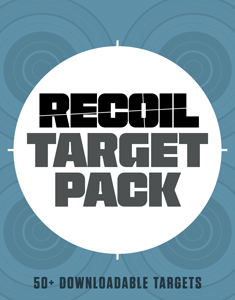 NEXT STEP: Download Your Free Target Pack from RECOIL
For years, RECOIL magazine has treated its readers to a full-size (sometimes full color!) shooting target tucked into each big issue. Now we've compiled over 50 of our most popular targets into this one digital PDF download. From handgun drills to AR-15 practice, these 50+ targets have you covered. Print off as many as you like (ammo not included).
Get your pack of 50 Print-at-Home targets when you subscribe to the RECOIL email newsletter. We'll send you weekly updates on guns, gear, industry news, and special offers from leading manufacturers – your guide to the firearms lifestyle.
You want this. Trust Us.