LIKE JEANS AND SHOES, WOMEN NEED A DIFFERENT STYLE THAN MEN WHEN IT COMES TO MOST HOLSTERS
If you've lived very long as a woman, you've probably realized that "unisex" usually actually means "made for men." Unfortunately, that rings true with holsters too, more often than not, especially concealed carry holsters. To make things easier for you, I've put together this guide to the best CCW holsters for women.
We'll start by going over the important things to think about when choosing a holster, the move on to our top holster recommendations.
Now let's dive right in with the buying guide!
WHAT TO CONSIDER WHEN CHOOSING A CCW HOLSTER FOR WOMEN
When choosing a CCW holster for women, you need to consider not only the things that make a holster good in general but also special considerations for women's body types.
CARRY TYPE & LOCATION
Maybe it's obvious, but one of the main things you need to think about when selecting a holster is how you plan on carrying. Since we're talking about concealed carry, that does complicate things a little bit for women.
For one, we tend to have smaller frames than men, though there are obviously exceptions, which gives less real estate on the body for carry. Second, women's clothing tends to fit tighter than men's, making printing more of an issue. 
Fortunately, natural curves and the loose, flowing fabrics that are common in women's clothing can also be used to your advantage. A loose top over breasts leaves a great spot for a bra holster. Thigh holsters are a great option for skirts and dresses. 
Waistband carry, of course, is a classic, and for good reason. Appendix, back, and hip carry are all good options based on your clothes and personal preference.
COMFORT
It's easy to underestimate the importance of a comfortable holster but don't. After all, if a holster isn't comfortable, will you even use it in the first place?
Your holster shouldn't pull on your clothes uncomfortably and shouldn't rub or poke your skin. For some holsters, you can avoid some of these problems with a base layer underneath, but that's not always an option.
TRIGGER COVERAGE
Complete trigger coverage is an essential safety feature for a holster. Full trigger coverage prevents accidental discharge, keeping yourself and others safe.
You'd think with proper trigger coverage being so important, basically every holster would have it, but no. You'll need to confirm that a holster has good trigger coverage before using it. 
RETENTION
Retention ensures that your holster (and gun) stays firmly in place, not falling out when you sit or lean. A good holster should be able to be turned in any direction without your gun falling out.
Holsters use either passive or active retention. Passive retention generally uses friction to hold your gun in place, while active retention utilizes an actual physical barrier, such as a retention strap, to keep your gun in the holster.
POSITIVE GRIP
Your holster should position your gun to ensure a positive grip. That means that your gun is ready to be drawn, ready to shoot, with a single hand.
Sure, you should still expect to have to practice drawing to create the muscle memory necessary, but you shouldn't have to fight your holster to get a good grip.
DURABILITY
Like with anything, you want a CCW holster that will last you. After all, a good holster can be an investment, so you want to get your money's worth.
Fortunately, the go-to materials for holsters are leather, Kydex, and nylon, all three of which are highly durable. They should also protect your concealed carry weapon from damage, though Kydex holsters are known to scuff finishes.
BEST CCW HOLSTERS FOR WOMEN
Flashbang Betty 2.0
The Flashbang Betty 2.0 is one of my all-time favorite IWB holsters for women. It's a step up from the original Flashbang Betty that you may already know and love.
This holster is made out of Kydex to give a low profile and low weight (so it shouldn't add to much pull against delicate fabrics) while still offering excellent protection for your concealed carry weapon. It completely covers the trigger guard and has adjustable retention.
The Flashbang Betty 2.0 uses a clip-style attachment point, so you can wear it with or without a belt and anywhere along your waistband. Since there's only a single small clip, it helps keep your concealed holster, well, concealed.
It's even available in a bunch of different colors and prints so you can get a prettier holster if that's your thing. If not, it's also available in traditional black.
Can Can Concealment Hip Hugger Elite
I love a belly band as an alternative to a more traditional IWB holster. I find them far more comfortable and like that they allow me more freedom in clothing choices while carrying. 
And as far as belly bands go, the Can Can Concealment Hip Hugger Elite is my favorite. 
It's made from wide, military-grade elastic with Tacti-Grip backing and is held in place with several sets of hook and eye closures. Though the Hip Hugger Elite is available in four different sizes for various different body types, there are six rows of closures to help you customize your fit even further. 
In addition to different versions for different body sizes, the Hip Hugger Elite also comes in three different versions for different sizes of handguns. The exact width and number of hook and eye closures depends on which size you get. The holster also comes in three different color options to suit different tastes.
One of my favorite things about the Hip Hugger Elite, besides have comfortable it is, is how much stuff I can carry in it. In addition to front and rear holsters (which unfortunately are both positioned for right-handed draw), there are two spare mag pockets, a smartphone pocket (though this is missing on the Small size due to limited space, a zipper pocket, a velcro pocket, and a key loop. 
And unlike many belly bands, the Hip Hugger elite provides complete trigger coverage and features rare earth metals to ensure retention. There are also tabs on the holsters to help make holstering easier, something that's a real problem on many belly bands. 
Can Can Concealment Garter Elite
With Can Can Concealment being so good at making belly bands, it's probably not a surprise that they also make a killer garter holster. After all, it's the same basic concept on a smaller scale.
Like the Hip Hugger Elite, the Can Can Concealment Garter Elite comes in four different sizes and versions for three different sizes of guns. Each holds two handguns and a spare magazine. Again, the exact width varies depending on which version you get. 
Also like the Hip Hugger Elite, the Garter Elite features a military-grade elastic with Tacti-Grip backing and hook and eye closures to keep the holster firmly in place. It also has the same rare earth magnets for retention and tabs for easy holstering. 
One thing that the Garter Elite has going for it that the Hip Hugger Elite doesn't is that it can be worn for either left or right-hand draw. It can also be worn with your gun positioned on either the inside or outside of your thigh to accommodate your needs for accessibility and concealability at the same time.
Under Control Tactical Concealed Carry Shoulder Holster
As we've already discussed, when it comes to holsters, "unisex" holsters can be a problem for women. That's especially true when it comes to shoulder holsters, which are rarely designed to accommodate a chest with actual breasts, leading the chest strap to not feel quite right. 
That's why I like the Under Control Tactical Concealed Carry Shoulder Holster. 
Since there's no strap across the chest, there's no fighting to properly arrange the chest strap so that it's comfortable around breasts. As a nice side benefit, that also makes it easier to conceal under jackets. 
This shoulder is also highly adjustable, making it great for smaller frames that may struggle to find a shoulder holster that can be made small enough. 
It's made of lightweight, comfortable, and durable nylon with a spot for your gun on one side and slots for a couple spare mags on the other. Padded shoulders help distribute weight and add comfort without also adding bulk. It can also be attached to your belt to help keep it in place and further distribute weight. 
Flashbang Bra Holster
The Flashbang Bra Holster is one of my favorite holsters that's specific to women. As we discussed in the buyer's guide, in a loose top, the space on the abdomen below the breasts is a pretty ideal place for concealing a gun without needing a jacket or hard pants. 
So how do you utilize that space? With a Flashbang Bra Holster. This is a clamshell-style holster that attaches to your bra's band and positions the gun behind the band, directly under your breasts.
Seriously, it can attach to virtually any bra. A bra band is already designed to support the weight of your breasts, so when you add the weight of a gun, the band just does more of what it's already doing. 
When you need to actually access your gun, simply grab the grip and pull down. This will free the gun from the clamshell while the loop around your bra strap keeps the holster itself in place. 
The Kydex clamshell completely encloses all but the grip of your gun, protecting you from pokes and rubs by the gun, ensuring complete trigger coverage, and protecting your gun's finish from oils and moisture produced by your body. 
It's hard to beat the concealment and accessibility of the Flashbang. It also comes in a bunch of different colors, so you can choose whichever one fits your taste. Because it encloses the gun so completely, it has a very custom fit but does come in versions for basically all the most popular concealed carry weapons. It also comes in versions for both left and right-hand draw. 
It comes with straps for bras with bands up to 4 inches wide, but if you need one wider, you can also buy XL straps separately, which will accommodate bands up to 5 inches. 
Flashbang also makes a suede version, the Flashbang Teddy, that's supposed to be even more comfortable, but I haven't gotten the opportunity to handle this one myself yet. 
Alien Gear Cloak Tuck 3.5 IWB Holster
While IWB holsters are fortunately not as gendered as some other holster types, they are a classic CCW holster option, so I feel like I should include more than one on this list. 
While the Flashbang Betty is designed specifically for women, the Alien Gear Cloak Tuck 3.5 is a great unisex IWB Holster option. In fact, it's probably my most recommended IWB holster in general. 
It's a pretty straightforward hybrid holster with a Kydex shell and a flexible back panel that bends with your body. The panel has stainless steel reinforcements inside to help support the weight of your CCW, while a neoprene backing helps ensure that the holster stays comfy. 
The Cloak Tuck also has two attachment points that help distribute weight, so it's not tugging so much on less rigid fabrics. It comes with a basic set of clips that can hook over your belt or waistband but is also compatible with Alien Gear's C-clips, J-clips, and O-clips, which are not included. 
It has adjustable cant and retention, as well as ride height for more custom positioning. 
Alien Gear Cloak Mod Holster
Most of us don't typically associate OWB holsters with concealed carry, but I wanted to include an OWB recommendation on this list just in case that's your jam. 
The OWB holster comes with a paddle-style back attached, but it also comes with a belt slide back that you can swap the paddle out for. Similarly, you can use those same two backs with any Mod shells, so if you don't carry the same gun every day, you don't have to buy additional versions of the same holster for each of your carry weapons. 
Instead, just buy one complete holster and whatever other shells you need to accommodate the additional carry weapons (Alien Gear makes Cloak Mod shells for just about any gun you'd want to carry).  It's a great way to save some money while also saving a bit of space wherever you store your holsters.  
LOOSE ROUNDS
Holsters are an entirely personal choice. From where you carry to what to how, it's different for each of us.
Now that you've read this you should be much better equipped to find exactly what works best for you in all situations.
Don't forget to experiment to find that perfect fit.
Ready for more? Take a look at these articles.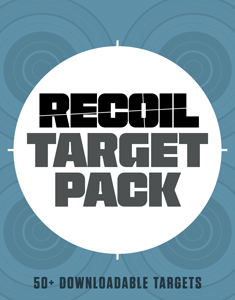 NEXT STEP: Download Your Free Target Pack from RECOIL
For years, RECOIL magazine has treated its readers to a full-size (sometimes full color!) shooting target tucked into each big issue. Now we've compiled over 50 of our most popular targets into this one digital PDF download. From handgun drills to AR-15 practice, these 50+ targets have you covered. Print off as many as you like (ammo not included).
Get your pack of 50 Print-at-Home targets when you subscribe to the RECOIL email newsletter. We'll send you weekly updates on guns, gear, industry news, and special offers from leading manufacturers – your guide to the firearms lifestyle.
You want this. Trust Us.